Igoe Creative Receives Neptune Award
March 1, 2021
Igoe Creative Receives Honorable Mention Neptune Award for "Sales Promotion" from Marine Marketers of America for Marine Marketing Excellence
Igoe Creative, Grady-White Boats' marketing partner, receives the industry's creative honorable mention in the category of "Sales Promotion," from Marine Marketers of America (MMA) for Marine Marketing Excellence, the most prestigious marketing awards in the marine industry.
"It's inspiring to see the new standards of excellence set by marketing professionals across the boating industry," said Courtney Chalmers, president of MMA.
129 entries in 20 categories were submitted from across the marine industry, including entries from small accessory manufacturers, worldwide brands of engines, boats and other recreational marine products and services. More than 70 marketing professionals from throughout the industry were involved in the judging process.
The Winter Sales Event is a company and dealer multimedia-supported promotion which aims to achieve specific, predetermined sales goals as well as generate high quality, traceable leads for nurture and dealer follow through. The promotion also has a goal to excite customers and give dealer support during winter boat show season.
The Winter Sales Event is supported with a wide variety of retail advertising tools including these select items and many more: spread and full-page print ads; custom emails/eblasts; website welcome gate, splash, and dedicated landing page; digital web banners, enews, social retargeting; dealer marketing materials and dealer point-of-purchase materials.
The promotion featured 11 different models for print, digital and dealer marketing efforts: 251 CE, Canyon 306, Canyon 326, Canyon 336, Canyon 271, Freedom 215, Freedom 235, Freedom 275, Freedom 285, Freedom 325 and Freedom 375
Single Page and Two-page Spreads
The concept of the boat coming out of a shroud of icy fog with the glow of the sun behind the boat depicts the emergence of a new boat season and elicits within the reader the excitement of coming into this new season with a new Grady-White boat. The simple but stand out Sales Event message conveys – this is the time to make your dream come true.

Dealer Support Print Material
A double-sided placard with easel was provided for desktop usage and a hang tag was provided to hang within the dealership from various locations including from the bow of the boats in the showroom or on the boat show floor as an eye-catching graphic. Again, these items supported the message presented through other mediums for a consistent look and feel.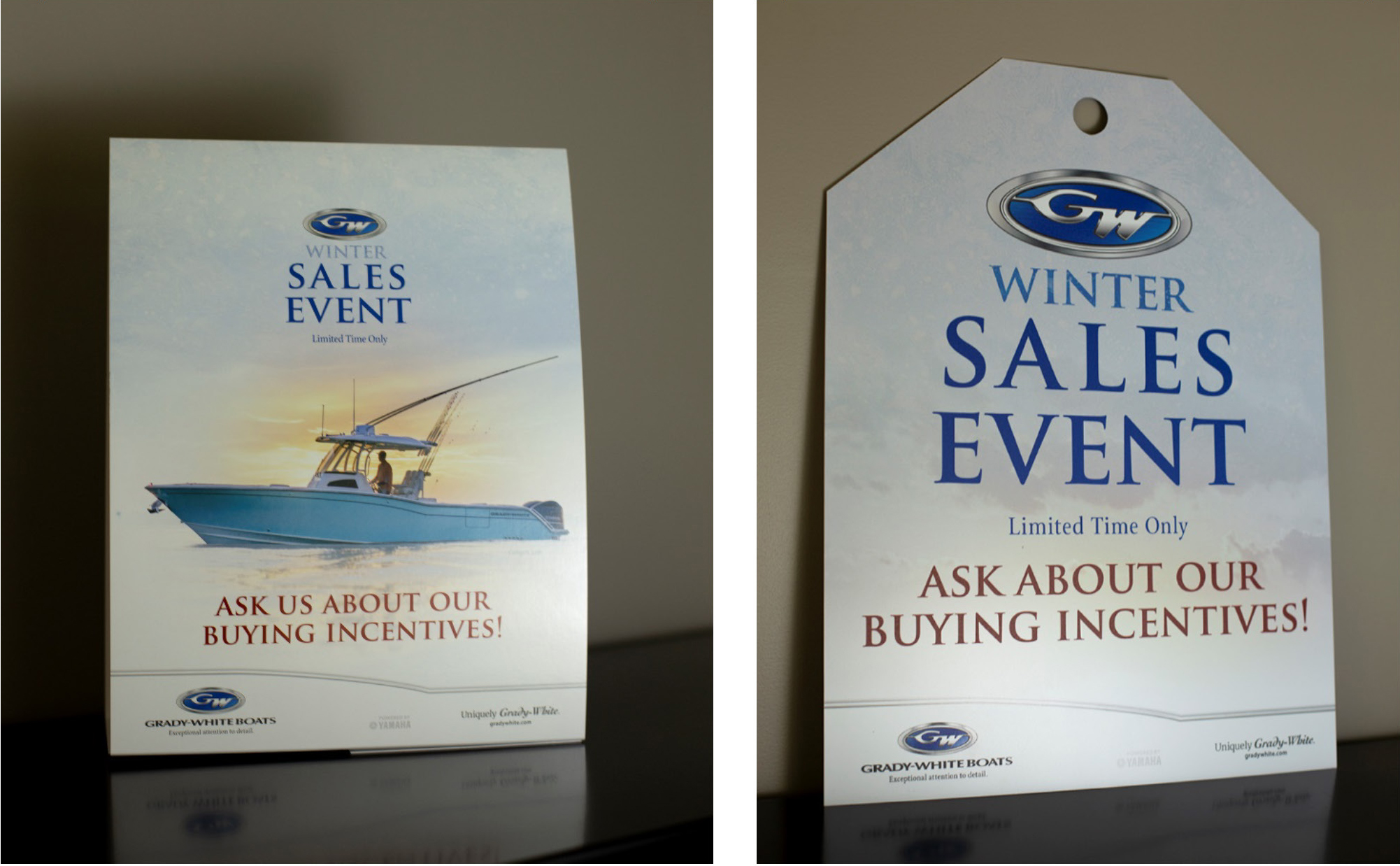 Dealer Support Marketing Materials
Custom email templates, four-color and black and white ad templates, web banners and individual elements are provided to dealers to aide in promoting winter sales event. The broadness of the campaign allowed dealers to promote the boat models that were most popular in their individual markets. The images were not specific to any area and making the campaign an exceptional dealer support tool.
Custom Emails and Eblasts
Grady-White Boats sent out internal custom eblasts to in-house lists as well as custom HTML coded custom emails to consumer publications for disbursement to their subscribers. The custom e-mail campaign mirrored the ads but included additional copy that supported the boat model and highlighted aspects that make Grady-White a stand out brand – best in its class boat.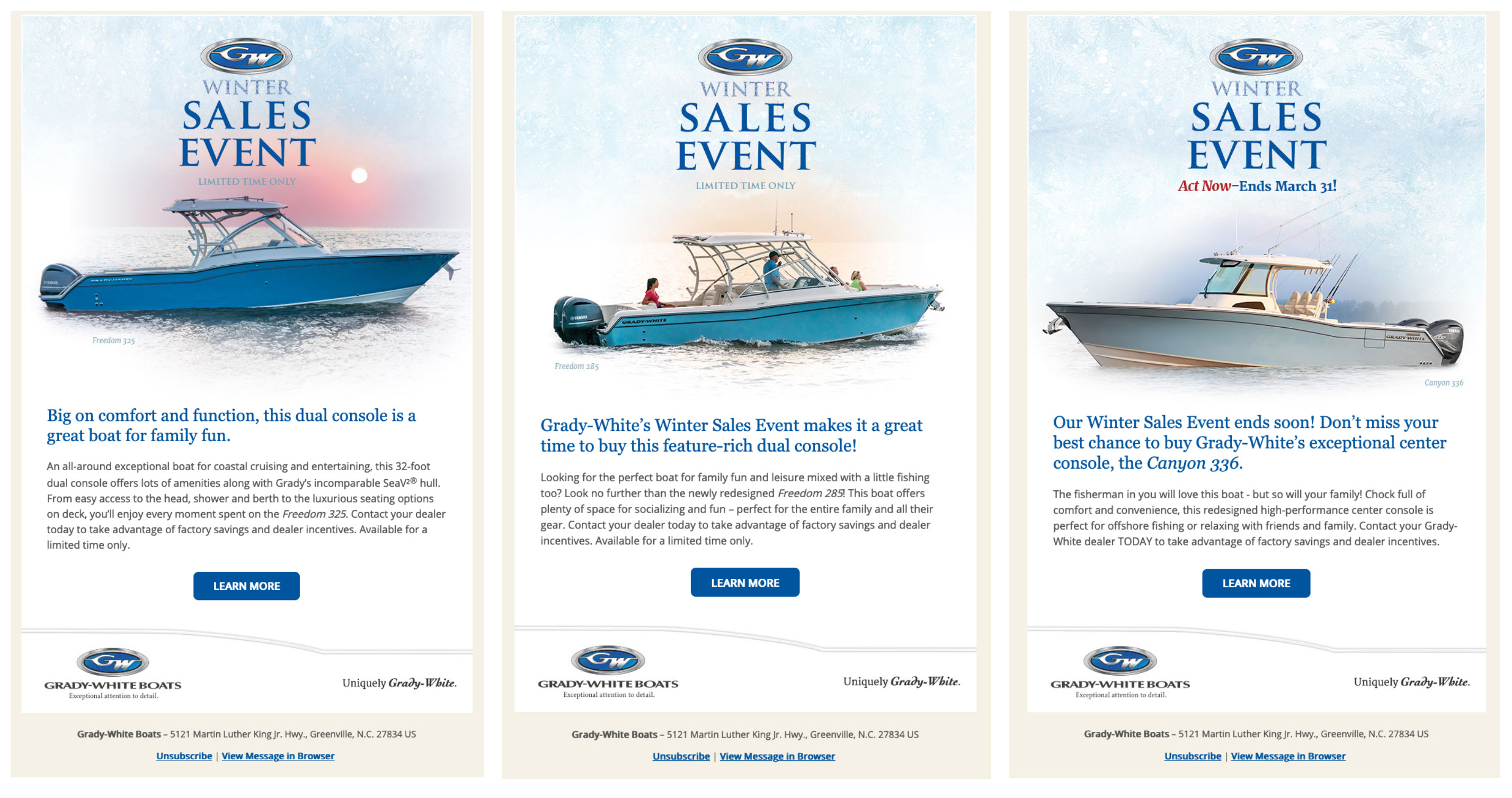 Website Graphics Display on Desktop and Mobile
A welcome gate, splash graphics for the homepage and a dedicated landing page was created for the promotion.
Web, Enews and Static Animated Banners and Social Media Graphics
Creating multiple web banners graphics in a variety of sizes enabled the campaign to be featured on a variety of websites and in enewsletters allowing a broader reach on desktop and mobile devices. Since all 11 boat models were utilized there were nearly 50 unique banners created.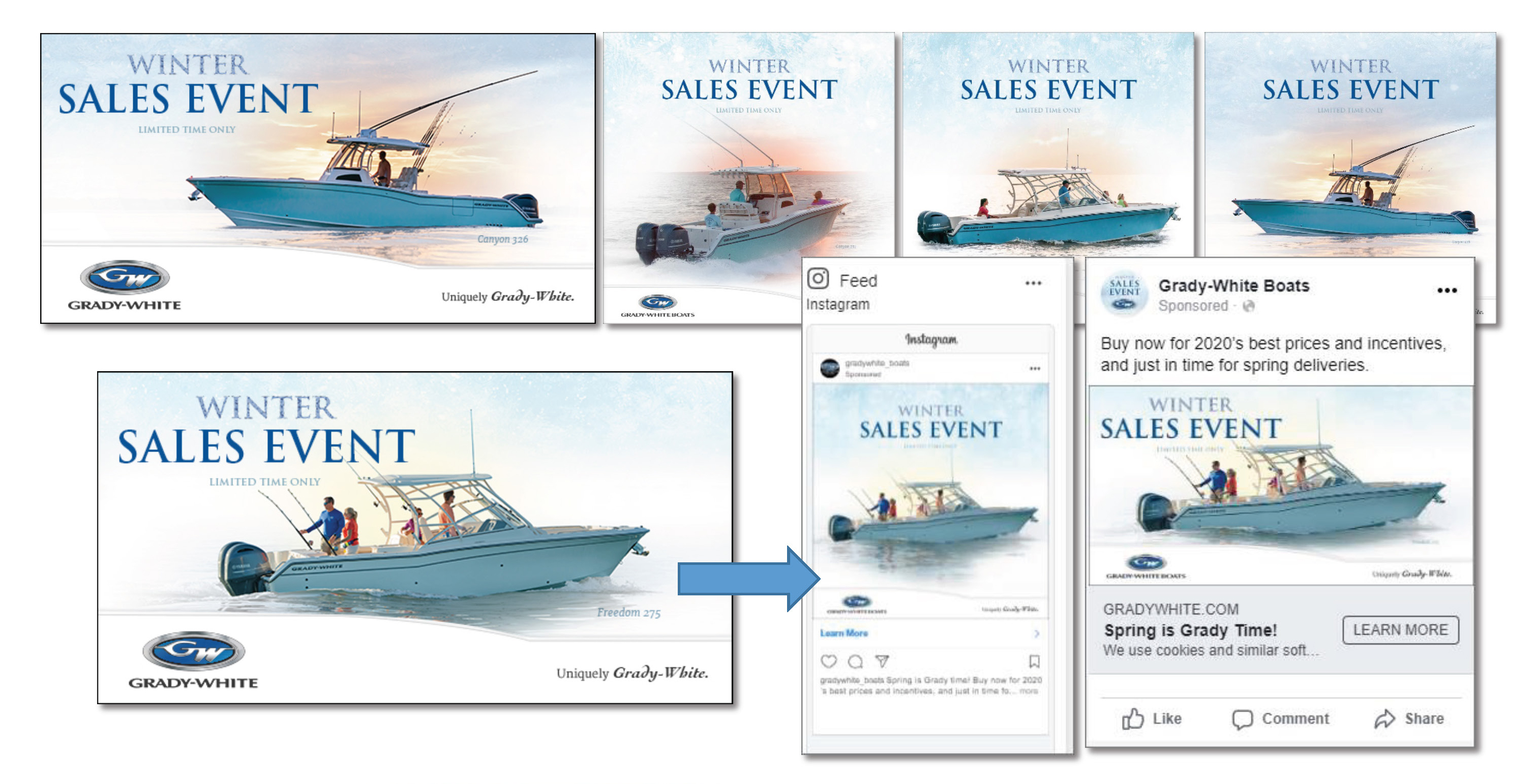 Established in 2007, Marine Marketers of America (MMA) is the exclusive voice for marine marketers and the professional association representing recreational marine industry marketers. MMA provides ongoing professional development and networking opportunities while recognizing the outstanding achievement of marine marketing professionals through its annual Neptune Awards. For information and to view Marine Marketers of America's full press release, visit www.marinemarketersofamerica.org.
###
Contact Us